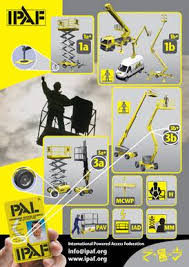 Who Should Attend
The IPAF Operator Course for Scissorlift and Cherry Picker is aimed at personnel who are or will be responsible for using a Mobile Vertical (Scissorlift) & Mobile Boom (Cherry Picker) type MEWPs (Mobile Elevated Work Platforms). Alternatively one of the MEWP types may be alternated for a Static Boom (Vehicle or Trailer Mounted Boom) type MEWP.


There are no prerequisite required for this course although a working knowledge of MEWPs is an advantage. Please take into consideration your level of experience when booking your course. This course is a one day course.
Objectives
Successful delegates will gain an understanding of current relevant legislation and best practice on a range of MEWPs within the selected categories and be able to carry out a pre-use inspection and most importantly use them safely, in line with current approved methods and manufacturer's instructions. The course agenda includes:
Introduction to IPAF and MEWPs
Pre-theory test
Legislations, regulations, standards and best practice
MEWP categories explained
Structural parts identified
Pre-use inspection/handover requirements
Safe operating methods and hazards to be observed
Post-theory test
Practical training on selected categories
Practical assessment on selected categories
Licence renewal & log books
Please note our terms and conditions apply and that non-attendance may well incur additional costs higher than the published (subsidised)  course fee.