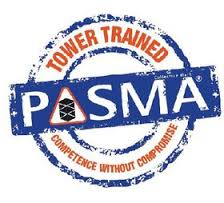 Who Should Attend
This course is aimed at personnel who are or will be responsible for assembling, dismantling, moving, inspecting and using mobile access towers. There is no prerequisite required for this course, although a working knowledge of mobile access towers is an advantage.
Objectives
Successful delegates will gain an understanding of current relevant legislation and be able to dismantle, erect, inspect and most importantly use mobile access towers safely, in line with current approved methods and manufacturer's instructions. The course agenda includes:
Introduction to PASMA and Mobile Access Towers
Legal overview – health & safety / Work at Height Regulations 2005
British & European standards
Guidance & information on tower components, inspection & maintenance
Tower assembly & dismantle (3T method & advanced guardrail)
Tower stability & tying-in
Hazards when using mobile access towers
Your Responsibilities when using mobile access towers
Multiple choice assessment paper
Practical training & assessment session
Please note our terms and conditions apply and that non-attendance may well incur additional costs higher than the published (subsidised)  course fee.